While Christmas is probably still fresh on your mind, it's never too early to start planning for Valentine's Day! By giving yourself plenty of time to plan, you'll be able to come up with tons of cool valentine gift ideas and won't be left scrambling around Sedalia for a present on February 13th. Here are a few nifty Valentine's gifts you can wrap up and give to your guy or gal in 2018.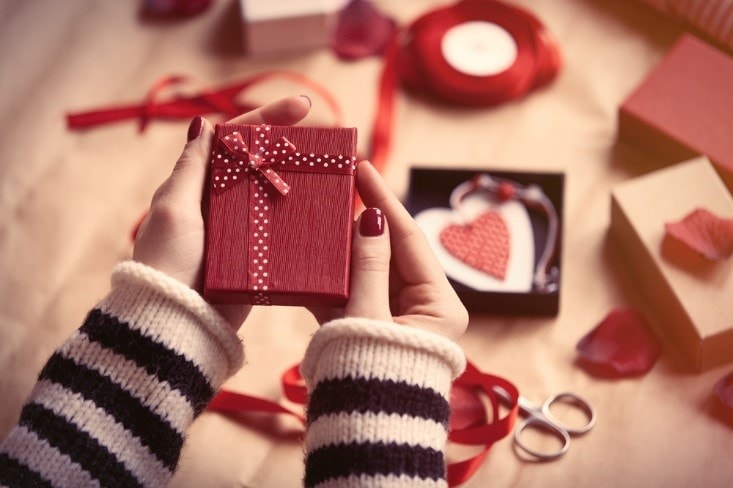 Pre-made Valentine's Gifts
·         Generation G by Glossier – Glossier is all the rage these days. Surprise her with a brand-new shade of lip gloss, and she'll be leaving imprints on your cheek all day long!
·         Handmade Cufflinks – Is your guy a sports fan? Get him a pair of handmade cufflinks that show off his love for [INSERT TEAM HERE]. For example, this crafted set of cufflinks on etsy.com is made from salvaged Dodger Stadium seating. It'll be like gameday, every day.
·         Long Distance Touch Lamps – Whether you're in the middle of an LDR with someone at Whiteman AFB or just like connecting with your valentine, this is the perfect gift for you and your SO. Every time you touch your lamp, its twin will emit the same colored light, cycling through the rainbow with each tap, no matter where its match is.
·         Custom Car Mats – If a standard Toyota car mat won't do, customize a set from scratch. These easy-to-clean vehicle mats are non-skid and durable, but that's not the best part—they can be completely personalized! Throw on a picture of her adored pet, a special message, or fancy monogrammed initials, and they'll be driving in style from one Valentine's Day to the next.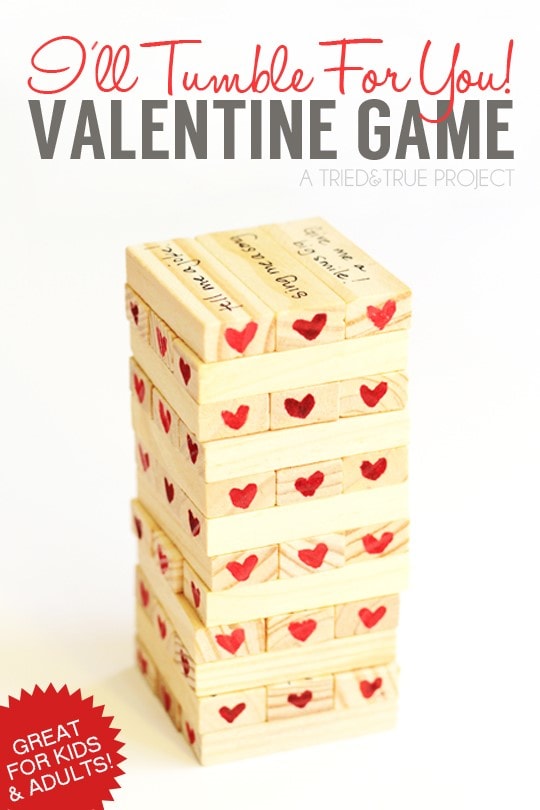 Photo: triedandtrueblog.com
DIY Valentine Ideas
·         Love Tumble Game – Customize a Jenga set to be Valentine's Day-themed. Gather up all the wooden Jenga pieces and split them between the two of you. Each of you will write some romantic instructions (these can be simple or saucy—whatever floats your boat). Then it'll be time to play; every time you successfully remove a block, follow the instructions written on it.
·         Date Night Selector – Do you often find yourselves asking, "What do we want to do tonight?" Write date night options down on popsicle sticks and keep them in a jar for nights when you just can't decide what to get into. Color code them by category to make the decision-making process easier, or simply keep them wood-colored for a romantic game of roulette.
·         Letters to Him (or Her) – Why not write a few letters to help alleviate a bad mood or set the evening's tone? Reassuring words through romanticized gestures can really kick Valentine's Day into high gear.
Bonus Gift Idea: Toyota Accessories
Our Sedalia Toyota dealer's suggestion for your Valentine gift? Emergency car kits.
While it may not seem romantic, an emergency car kit is the ultimate way to show your loved one how much they mean to you. How else are you supposed to protect them when they're on the road?
Fill your emergency kit with essentials like booster cables, a multi-purpose tool, survival blanket, gloves, flashlight, bungee cord, and tire pressure gauge. You can also add some first-aid materials in there, such as bandages, scissors, anti-bacterial spray, and OTC pain medicine.
Happy Valentine's Day from All of Us at McCarthy Toyota
Whether you're serving at Whiteman Air Force Base or simply having a quiet night at home, we hope you can make this Valentine's Day special for your special someone. If you need help choosing a Toyota accessory or even a new 2018 Toyota as your gift, the sales team at our Sedalia dealership would be thrilled to lend a hand. Contact us at (660) 530-2282 or visit McCarthy Toyota of Sedalia at 3110 West Broadway to view our selection of new Toyota models and pre-owned cars for sale.
Sources & Photos:
https://www.glossier.com/products/generation-g
https://www.etsy.com/listing/205573840/baseball-cufflinks-dodger-stadium-home
https://www.uncommongoods.com/product/long-distance-touch-lamp
https://www.zazzle.com/create_your_own_front_car_mat-256092463231832601
https://www.triedandtrueblog.com/valentines-day-tumble-game/
https://www.pinterest.com/pin/552957660480662645/