When it comes to mid-size SUVs, there are a few things that are on top of people's must-have lists of features. Typically, they're things like cargo space, all-wheel drive, a comfortable ride, seating for the family, a good engine and transmission and a vehicle that has a little style to go along with those more practical aspects.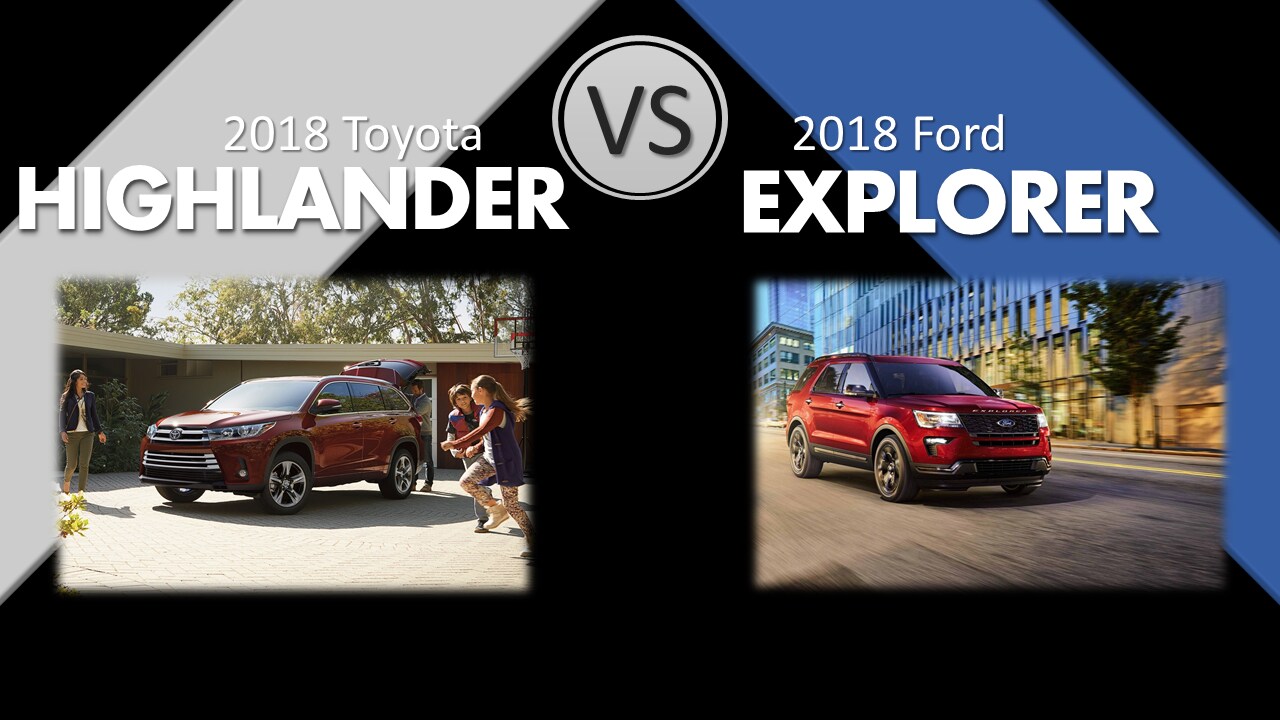 Two of the fiercest rivals in the class are the 2018 Toyota Highlander and the Ford Explorer. Both are nice-looking vehicles, but which one comes out on top where it counts? We decided to do a side-by-side comparison with a little help from the critics to see if our hunch is correct.
The Inside Story
The 2018 Toyota Highlander earns high praise for its luxurious and comfortable cabin. Kelley Blue Book reviewers call the Highlander's interior "one of its strong points", citing attractive upholstery, plenty of places to put your wallet, smartphone, and anything else you might be carrying, and its "numerous" USB ports.
The Ford Explorer's interior earns less glowing reviews, and that's putting it kindly. Car and Driver reviewers were less than impressed, noting that the "cabin fit and finish was horrid—panels fit together poorly, and gaps between panels were large." They did acknowledge that the front seats were comfortable, though, and that the interior was spacious enough for typical people. Too bad the Highlander is anything but typical.
Powering the Drive
The Highlander offers three different engine choices, so whether you're after the best possible fuel economy or you're willing to exchange a few cents per gallon at the pump for a more powerful duo, you're covered. You can choose between the standard 2.7-liter 4-cylinder that delivers 185 HP, a 3.5-liter V-6 that takes things up more than a notch to 285 HP, or go with the hybrid that gets its power from a 3.5-liter V6 and AC 650-volt permanent-magnet motor.
The 2018 Ford Explorer's standard engine is a 3.5-liter, but there's also a turbo 4-cylinder engine that provides slightly better gas mileage, as well as a twin-turbo V-6 that's as robust as you'll find under any comparable hood.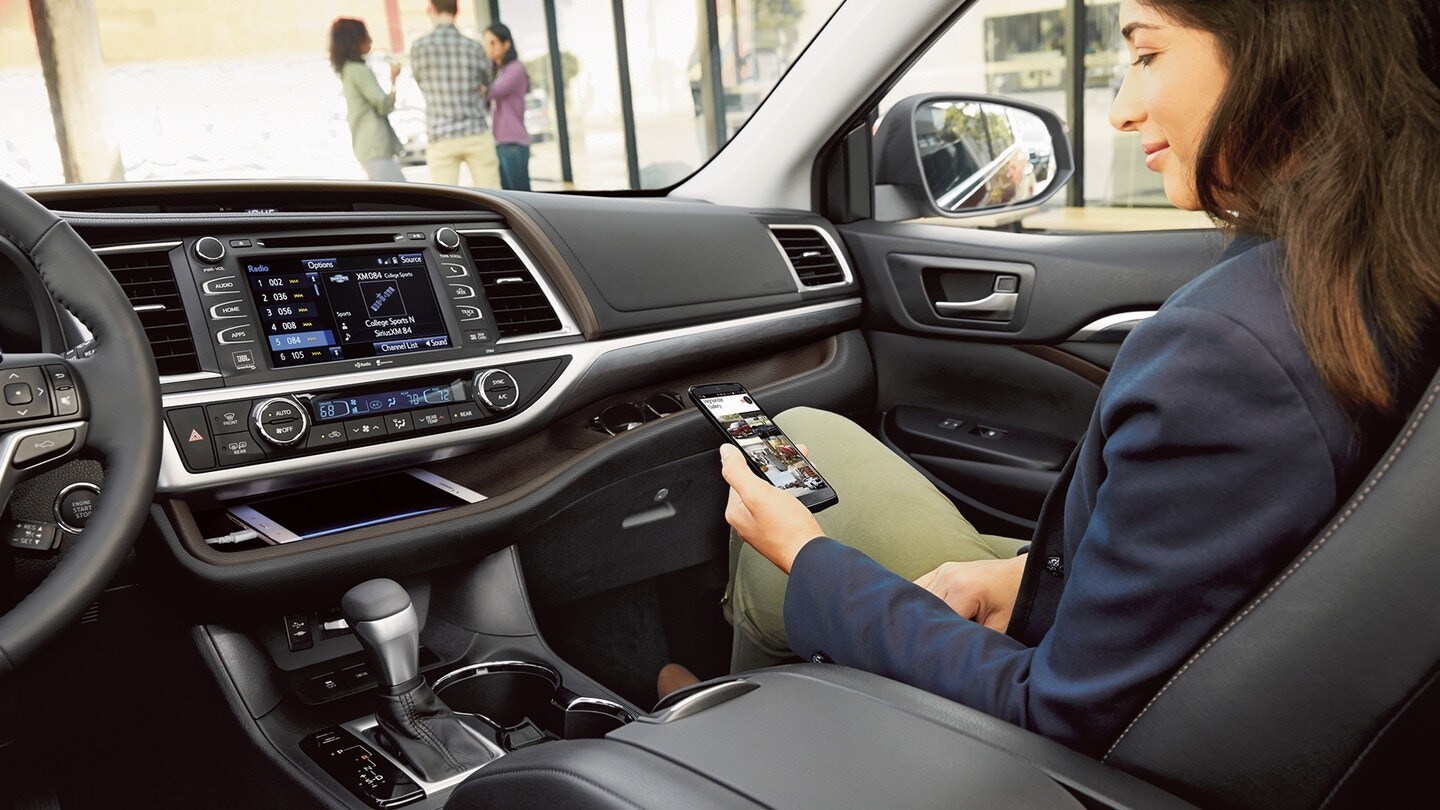 Photo: Toyota.com
Infotainment
The 2018 Highlander has Toyota's Entune Infotainment system, and Car and Driver reviewers noted that "the staples are all present and accounted for across the Highlander lineup, too: Bluetooth phone and audio streaming, five USB ports, and an auxiliary-input jack are all included," along with a 6-inch screen (or an optional 8-inch screen on higher trim levels).
The Explorer's Sync 3 Infotainment system is "intuitive and fairly snappy in its performance," noted Car and Driver reviewers; however, they also pointed out that "very few" connectivity features are standard on the Explorer — most are only options. Safety
This one's pretty straightforward. If you want a truly safe ride for your family, the 2018 Toyota Highlander is — as Kelley Blue Book reviewers put it — "the choice for families seeking a safe, secure and comfortable 8-passenger crossover SUV." Why? Because every Highlander, from the base model to the most high-end trim level, has a standard suite of driver-safety assists including pre-collision warning and braking, adaptive cruise control and lane-departure warning. It's an IIHS Top Safety Pick and tested in the Superior range for front-crash prevention.
The Explorer offers the option of some driver assist features, but they'll cost you, and unlike the Highlander, it did not earn the prestigious IIHS Top Safety Pick. In fact, in crash prevention/mitigation testing, it earned the agency's lowest rating.
If safety is important to you, it's clear which is the best SUV for you and your family: the new Toyota Highlander.
Fuel Economy
The Highlander delivers class-leading fuel economy with its base engine/transmission combo, so we already know that it beats the Ford Explorer in that department. The EPA estimates for the Highlander are 22 mpg combined for the base engine, 23 mpg combined for the V-6, and 28 mpg combined for the hybrid. EPA estimates for the Explorer are 21 mpg combined for the 4-cylinder, 20 mpg combined for the V-6 standard engine, and 18 mpg combined for the turbo-charged 6-cylinder engine.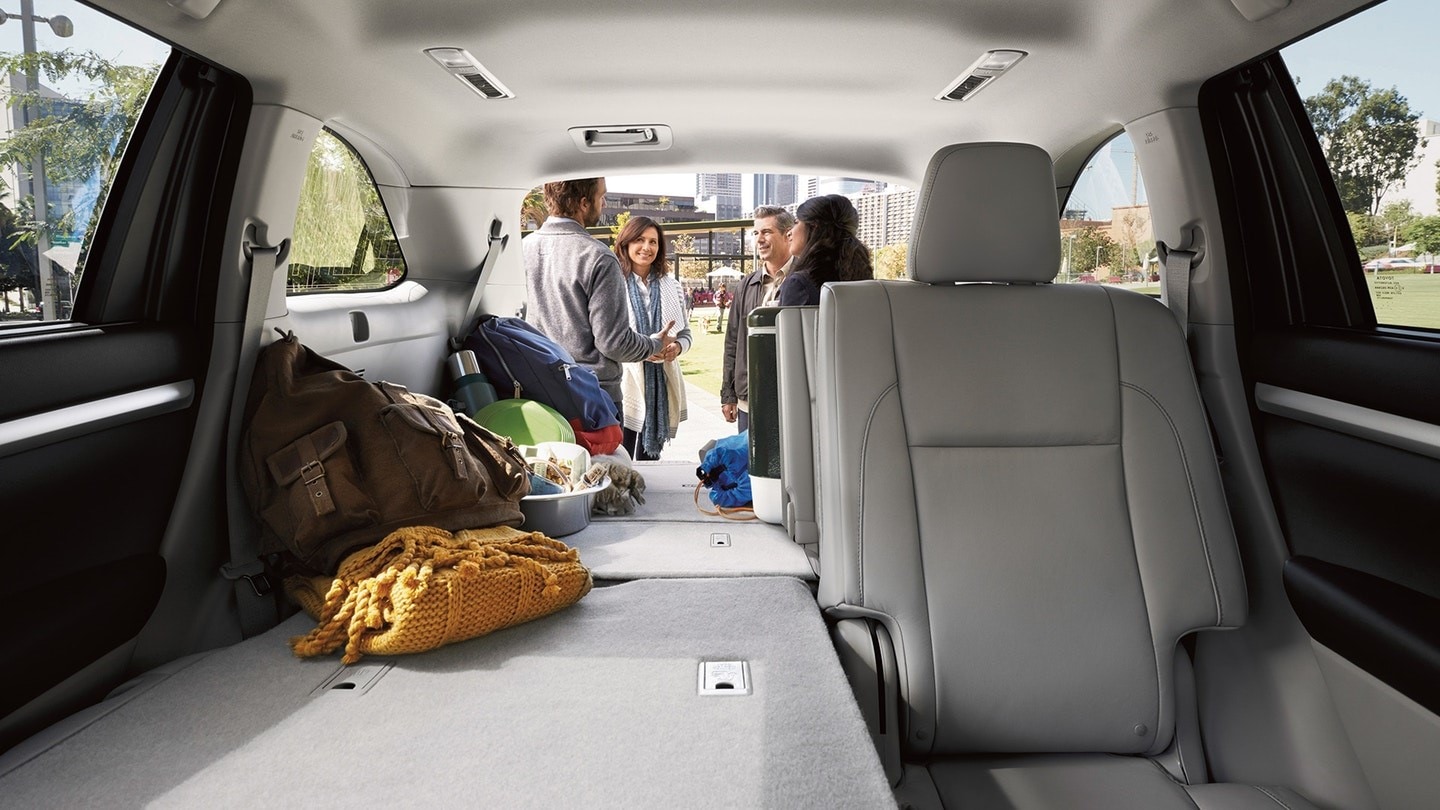 Photo: Toyota.com
Cargo Space
Need to transport some lumber? Fold the Highlander's seats down and you've got 83.2 cubic feet of space to work with. The Explorer comes in a close second with 80.7 feet with all seats folded down.
The Critics Speak
Edmunds' reviewers picked the 2018 Toyota Highlander as one of the year's best mid-size SUVs. The reviewers at Kelley Blue Book concur, rating the Highlander an impressive 8.9 out of a possible 10 points. (KBB rated the Explorer a much lower 7.5.)
But perhaps the most telling comment comes from reviewers at U.S. News & World Report, who say, "the Ford Explorer isn't a terrible SUV, despite its low ranking, but the Highlander, and others, are much better. The Explorer is underwhelming inside, with mediocre comfort and passenger room. Interior quality is OK, but some unimpressive materials cause it to lag behind class leaders like the Highlander."
The verdict? The Highlander is the mid-size SUV for safety-conscious, cargo-toting drivers who want the benefit of decent fuel economy and a comfortable ride to go along with the practical aspects of their hard-working SUV.
Build Your Highlander in Sedalia, MO
Ready to engage your higher senses? Come test drive the new 2018 Highlander at McCarthy Toyota of Sedalia. Give us a call at (660) 530-2282 to schedule a visit or simply stop by our Sedalia Toyota dealership at 3110 West Broadway to speak with one of our salespeople.
Sources & Photos:
https://www.kbb.com/toyota/highlander/2018
https://www.kbb.com/ford/explorer/2018
https://www.caranddriver.com/toyota/highlander/
https://www.thecarconnection.com/specifications/ford_explorer_2017_xlt-4wd
https://www.caranddriver.com/reviews/2018-ford-explorer-in-depth-model-review-2018-ford-explorer-interior-review-car-and-driver-page-5
https://www.caranddriver.com/reviews/2018-toyota-highlander-in-depth-model-review-2018-toyota-highlander-entune-infotainment-review-car-and-driver-page-6
http://www.iihs.org/iihs/ratings/vehicle/v/toyota/highlander-4-door-suv
http://www.iihs.org/iihs/ratings/vehicle/v/ford/explorer-4-door-suv/2018
https://cars.usnews.com/cars-trucks/ford/explorer
https://www.edmunds.com/toyota/highlander/2018/review/
https://www.fueleconomy.gov/feg/bymodel/2018_Toyota_Highlander.shtml
https://www.toyota.com/highlander/
https://www.ford.com/suvs/explorer/?gnav=header-all-vehicles